Arnold Daghani. Who is he?
Arnold Daghani was born in Czernowitz, (not Suczava as other sources say) and he was a German speaking Romanian Jew. Some consider him today one of greatest artists of Europe in the 20th century. During his life, he had failure after failure.
He married his first and third wife (he called her Nanino)  Rabinovitz, in 1940. His second wife was Gabriela Miga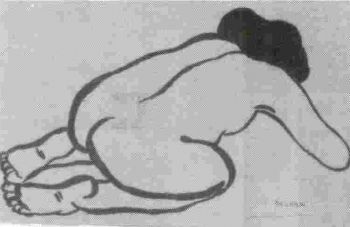 I met him in Bucharest around 1955. Daghani impressed me with his British look wearing  tweed jackets and smoking a pipe. I was ten at the time and he was my English tutor, the most expensive English tutor in Bucharest under the Stalin-style communist regime. I did not learn much English.  He did all the writing with clear letters, while I was watching him. I was dreaming,  me a ten year old boy, with him, a man in his forties, to escape to the Free World. He had an Airedale Terrier dog. One day, to show it to me, he walked for two hours from the other end of the city. We did not have sneakers in those days People did not have dogs in apartments. One can not even buy dog food. Human food was on coupons. So an Airedale Terrier looked very Western to me.