After too many years, the Cemetery database project is nearing completion. There are just about 3000 burials remaining to index. (For those who aren't familiar with it, results are posted to The JewishGen Online Burial Registry at <http://www.jewishgen.org/databases/Cemetery/>.) Transcriber Noam Silberberg recently spotted an unusual monument in Area 102, recording the passing of Dr. Karl Nussenbaum, who died in a plane crash in 1938.  Does anyone remember or know anything about this event?
I'd be interested to know more!
Bruce Reisch
April 25, 2015: 21:00 ET:
Noam Silberberg send the following related information:
The plane was a Lockheed 14H Super Electra of the Polish LOT airline
flying on the Warsaw-Lwow-Czernowitz-Bucharest-Thessaloniki route. On
July 22nd, 1938 at around 17:40, it crashed after being struck by
lightning near Stulpicani, Suceava county. There were 14 people on
board, all killed.
Crew members were pilot Wladyslaw Kotarba, radio operator Zygmunt
Zarzycki and flight engineer Franciszek Panek.
On board were also two military pilots – Capt. Gnys and Capt
Waliszewski; aviator Olimpiusz Nartowski; Polish diplomat Edward
Gozdowski and Japanese military attache Col. Masakatsu Waka.
Other passengers were Dr. Lemuel Caro (Goldstein) from New York and
Bulgarian diplomat Radi Radev.
In Czernowitz boarded Dr. Isidor Bodea, director of the children's
hospital in Czernowitz; Dr. Karl Nussenbaum; Capt. Gheorghe Ionescu
and Romanian composer and aviator Ionel Fernic.
Noam.
April 25, 2015 21:00 ET:
Irene Fishler shared additional information:
From Noam Silberberg's very interesting comment I learned that on this
flight was also Dr. Isidor Bodea.
By chance, I have a photo I took at the Children's Hospital main building
with a commemoration plaque on its wall. ( see below).
It reads , in Romanian: "Dr. Isidor Bodea ( 1866-1938) the first
chief-physician of the Children's Hospital in Cernauti"
As far as I know Dr. Bodea was not Jewish.
If you think it's worth, please post it on the Ehpes-Blog.
Thanks for everything you do,
Best regards,
Irene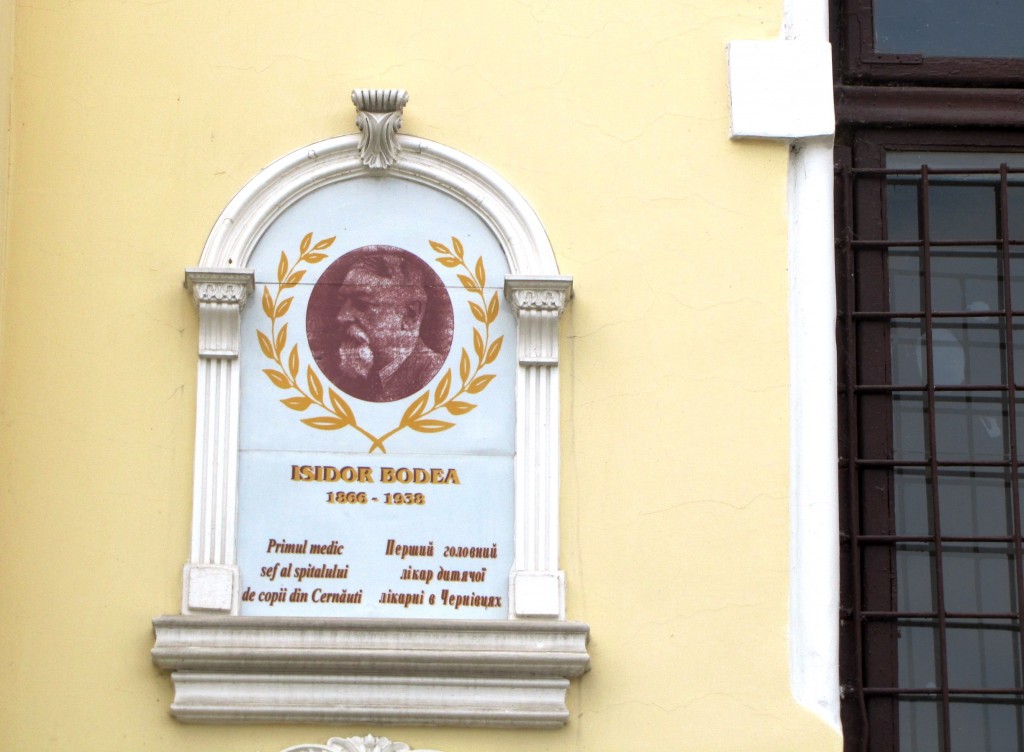 April 25, 2015 21:30:
Ignacio Sternberg contributed the following:
Hello Bruce and Noam & Hardy
I am answering you from Caracas, Venezuela, regarding Bruce's interest in Dr. Karl Nussenbaum. He was a cousin of mine.My mother's mother (my GM ) was a NUSSENBAUM. The source of the information came from Claudia, daughter of Karl N. He studied medicine in Vienna. Anything else you need just write me. I think I have the best tree of the Nussenbaum's !!!!! as told by them. (example below)