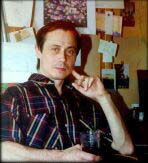 The exhibition "Romantic landscapes & compositions" of Oleg Liubkivsky, the well-known Bukovinian artist, was opened on June, 26 1998 in Chernivtsi Art Museum.
50 works of art performed in water-colours, copper-etching and combined techniques were exhibited there.
The main theme of the exhibition is a philosophic idea
based on the artistic comprehension of fleeting of life & an age-long human yearning for beauty. The key aspect of this theme is the contradiction between culture and its absence within a certain historic period where the architectural being of Chernivtsi is treated by the artist both as a source of inspiration & as a routine monument to the decline of society in general.
As a genre, romantic landscape in the name of the exhibition has a double ironic sense: on one hand the tender European-like soul of the city, perfectly shown by the artist, & on the other hand the brutal remains of reality in the romantic pieces of the former "Little Vien" living their sad last days.