After too many years, the Cemetery database project is nearing completion. There are just about 3000 burials remaining to index. (For those who aren't familiar with it, results are posted to The JewishGen Online Burial Registry at <http://www.jewishgen.org/databases/Cemetery/>.) Transcriber Noam Silberberg recently spotted an unusual monument in Area 102, recording the passing of Dr. Karl Nussenbaum, who died in a plane crash in 1938.  Does anyone remember or know anything about this event?
I'd be interested to know more!
Bruce Reisch
April 25, 2015: 21:00 ET:
Noam Silberberg send the following related information:
The plane was a Lockheed 14H Super Electra of the Polish LOT airline
flying on the Warsaw-Lwow-Czernowitz-Bucharest-Thessaloniki route. On
July 22nd, 1938 at around 17:40, it crashed after being struck by
lightning near Stulpicani, Suceava county. There were 14 people on
board, all killed.
Crew members were pilot Wladyslaw Kotarba, radio operator Zygmunt
Zarzycki and flight engineer Franciszek Panek.
On board were also two military pilots – Capt. Gnys and Capt
Waliszewski; aviator Olimpiusz Nartowski; Polish diplomat Edward
Gozdowski and Japanese military attache Col. Masakatsu Waka.
Other passengers were Dr. Lemuel Caro (Goldstein) from New York and
Bulgarian diplomat Radi Radev.
In Czernowitz boarded Dr. Isidor Bodea, director of the children's
hospital in Czernowitz; Dr. Karl Nussenbaum; Capt. Gheorghe Ionescu
and Romanian composer and aviator Ionel Fernic.
Noam.
April 25, 2015 21:00 ET:
Irene Fishler shared additional information:
From Noam Silberberg's very interesting comment I learned that on this
flight was also Dr. Isidor Bodea.
By chance, I have a photo I took at the Children's Hospital main building
with a commemoration plaque on its wall. ( see below).
It reads , in Romanian: "Dr. Isidor Bodea ( 1866-1938) the first
chief-physician of the Children's Hospital in Cernauti"
As far as I know Dr. Bodea was not Jewish.
If you think it's worth, please post it on the Ehpes-Blog.
Thanks for everything you do,
Best regards,
Irene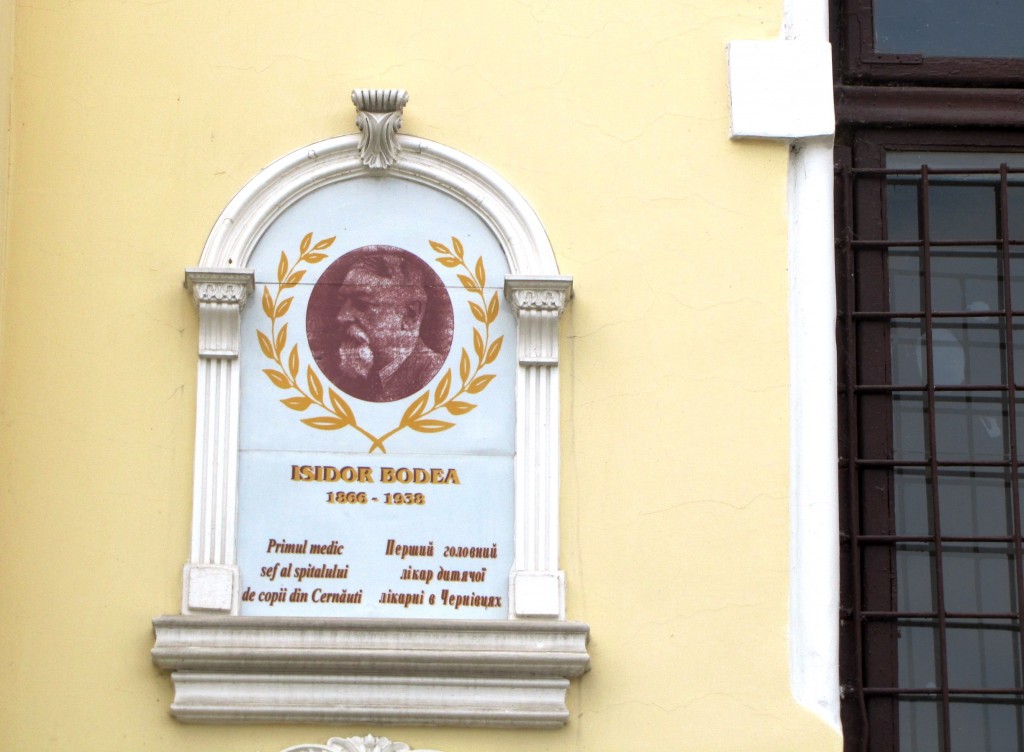 April 25, 2015 21:30:
Ignacio Sternberg contributed the following:
Hello Bruce and Noam & Hardy
I am answering you from Caracas, Venezuela, regarding Bruce's interest in Dr. Karl Nussenbaum. He was a cousin of mine.My mother's mother (my GM ) was a NUSSENBAUM. The source of the information came from Claudia, daughter of Karl N. He studied medicine in Vienna. Anything else you need just write me. I think I have the best tree of the Nussenbaum's !!!!! as told by them. (example below)
April 27, 2015, New contribution from Mordecai Lapidot:
All I can contribute is just an account of a 5y+4 months year old ear-and-eye witness.
My parents and I usually spent a week or two in the summers before 1940 in Gurahumora, where my father's cousins (the Apter family) lived.
I recall vividly that evening, in the summer of 1938, and that disaster. It was a typical summertime thunder-and-lightning strom night, and my parents and I stood at the window of our room, fascinated by the lightnings that lit the darkblue sky.
Suddenly we heard and saw a little plane in the sky, and after a few seconds there was another lightning, followed this time by a thunderous explosion. We saw suddenly people running in the streets and a few carriages passing quickly in a particular direction.
The next morning we learned from the neighbours that the plane had been struck by lightning and had crashed in some "nearby" wood. The site of the catastrophe had become a "celebrity" with many peasants from the villages around gathering to visit it.
I have no good explaination, but this is my only crystal-clear and vivid memory of the summers in Gurahumora (which is not too far from Stulpicani). The scene of the room we were in, as well as of the short period we stood at the window and the events that we saw and heard, was many years – and still is – clear and vividly imprinted as a frame before my eyes. I suppose the tragic catastrophic crash that I witnessed made an indelible impression on my mind, and the intact disquette is still there, the resolution not reduced by the nearly 77 years that have passed.
Shavua Tov
Mordecai
April 27, 2015, Additional information from Irene Fishler:
Hardy and Mordecai , congratulations to your fine memory !
Here is another victim of the crash: Fernic Ionel ( 1901-1938)
He was first an actor ,then a popular composer of light music ( over 400
tangoes, etc).
His great love was aviation and …parachute jumping.
After a bad accident, in 1936 he took the job of director of the Pilots
School ARPA in Czernowitz.
In June 1938 he wished very much to go to Bucharest to the funerals of Queen
Maria.
But, the Lot airplane crashed into the dark forests of Negrileasa , near
Stulpicani…
The story is here:
Regards,
Irene
Thank you everyone for filling in the details of this tragedy – all surfacing because of an inscription on a stone in the Czernowitz Jewish Cemetery.
Bruce Reisch
Geneva, New York