Dear Czernowitzers,
Ann Perry, a new list member from Ireland, would like to share these photos with you.  Below is a note she wrote with more details.
Bruce Reisch
"Back in March of this year I  was clearing out a room in my parents' house in Gloucestershire, England. This room had long been used as a storage room/oubliette and was crammed with old stuff accumulated over decades. Here I found an old suitcase which my father must have brought from my grandparents house after they died in the '70s. The case was full of family photographs and curiously,
two large photos from pre WW1 Czernovitz
. One photograph is a 'graduation ' montage  made up of individual, miniature photos of the students and teachers from a class at the
Czernovitz Staatsgymnasium in 1911
, with names under each miniature. The other photograph is of most of the same bunch of students and teachers taken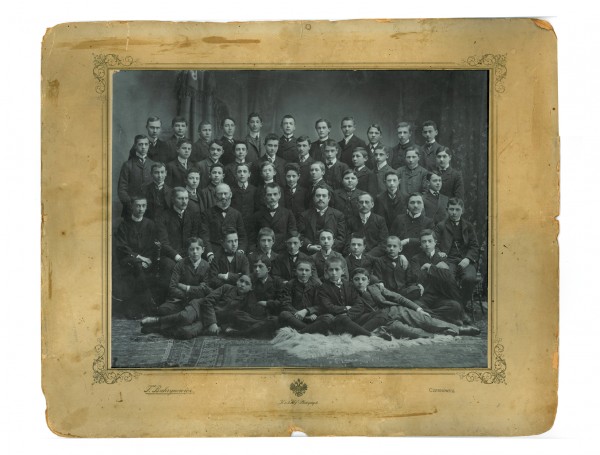 a few years earlier. I have no idea how these photographs came to be in my grand-parents possession.  Research into my family background has not yet revealed any  Czernovitz conection.
I've joined the list because I want to share these photographs from pre-1st World War Czernowitz. My knowledge of european history isn't great so I hadn't heard of Czernowitz before finding these pictures. As I might have said already, as far as I know, my father's family were from generations of modest, rural, english, (mostly) working class people centred around Staffordshire and Gloucestershire in England. I have no reason to suppose that any of my ancestors were educated at the Czernowitz Staatgymnasium!  A mystery then. Nevertheless, on seeing these images for the 1st time, I felt compelled to find out more about Czernowitz, the history of the time and the appalling horror of what came later. There is a name (and address in Vienna) stamped on the back of the group photograph, of a man who graduated from the Czernowitz Gymnasim in 1912. From this and various database sites I have managed to trace this man's daughter who came to England as a refugee with the 'Kindertransport' programme sometime in the late 1930s and who is now living in North West London. With the help of the Association of Jewish Refugees, the original photographs will be returned to her shortly. Meanwhile, I think that these photographs could be of interest to Czernovitzers everywhere. So, here they are………………………Best wishes to all, Ann Perry,  Ireland."
Czernowitz Imperial-Royal I. State Gymnasium Graduates 1911/1912 as per
http://czernowitz.blogspot.de/2009/03/the-imperial-and-royal-state-gymnasium.html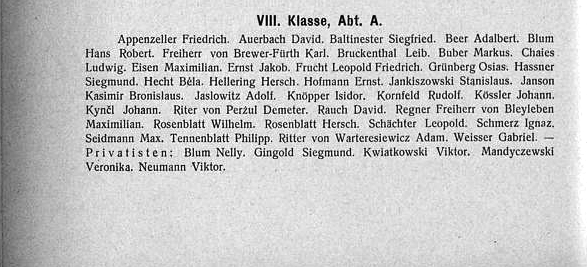 Additional list of students for class pictured above, generously supplied by Irene Fishler!