From Gabriele Weissmann
Dear all,
Last week Volker Koepp invited us to the Berlin premiere of his new
movie "In Sarmatien" which took place in the Akademie der Künste. We
were very impressed. It is a superb documentary.
The many facets of the film are overwhelming. Its humane approach, its
references to history, to the past of peoples and the ensuing destinies,
should be a must-see for the contemporary generation and the educational
system world-wide.
It so happened that the premiere fell on a day when the events in Crimea
and the Ukraine were hot and moving fast.In the film,
Koepp interviews persons from Moldavia(Kisinau)Bielorus (Grodno)
Ukraine (Czernowitz),Lithuania, Kaliningrad (Königsberg) : and
everywhere the persons talk about their dreams for a better life, the
economical and political problems of the present situation,
and some, of their fears of a Russian takeover.
Considering the current events in Eastern Europe,this film is amazing.
In the trailer shown on today's List, next to Tanja Kloubert,we see and
hear Felix Zuckermann, the son of Frau Zuckermann from the former movie.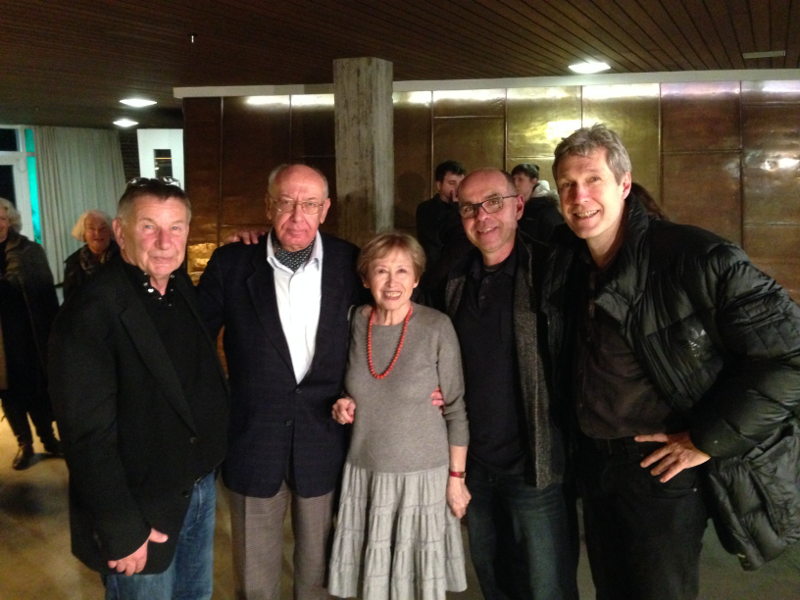 In the photo (click to enlarge), you will see Volker Koepp first on the left, my
husband and myself, and on my right,Fritz Hartthaler, the producer of
many Koepp documentaries, which are acclaimed all over the world.)
Not in the picture is Thomas Plennert, the outstanding cameraman, who
contributed to Koepp's films for many many years. His masterly hand
at rendering landscapes as breathtakingly live paintings, and showing
people's faces in their truthful, natural expression enriched Koepp's
movies to make them cineastic works of art.
Koepp has a very personal way of asking and getting answers, of looking
intensely for people and places, thus painting a very complex picture of
his documentaries. Koepp genuinely likes people and their stories,
is interested in them, and he gets a most rewarding feed-back.
Have just heard today that the DVD will be on sale as from September
2014 (www.salzgeber.de/info@salzgeber.de).
Ten years ago, on the occasion of my husband's 60th birthday party,
my husband finished his speech with this message:
" – We try to find answers to the questions of the present: All of us!
– We try to decipher the mysteries the future holds in store for us: All
of us!
– Only occasionally we remember that we are made of the dough of the
past. All of us!
Gabriele